Who am I?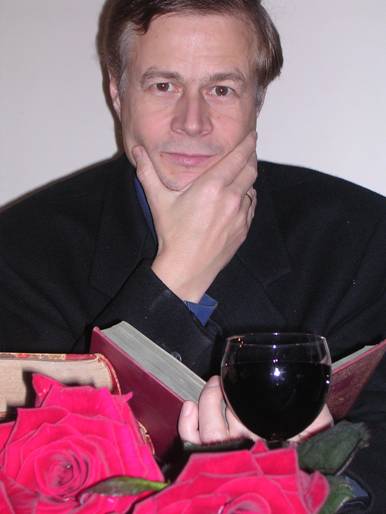 A liegeman to the Dane, with wine from Gargantua's vineyard and roses from Ronsard's garden (Tours 2007).
I am a Danish citizen born in Denmark and I have lived there for 23 years (1964-1982, 1983-1984, 1999-2003). I have spent the rest of my life in France and I am now living in Reichshoffen (Alsace). Since 2006, I have been working as professor of history and literature at the Institute for German Studies at the Strasbourg University. My research on Jon Jakobsen and Danish renaissance started in 2004. I am married and I have three children (14, 21, 24) and a grand-son (3 months). English is only my fourth language after French, Danish and German.
My full name is Peter Hvilshøj Andersen Vinilandicus. The Latin part of it refers to the legend about the origin of the Lombards. The Lombard historian Paul the Deacon claimed his ancestors to have emigrated from a Northern island Scadinavia. He explained that they were called vinili before their arrival in Southern Europe. In 1579, the Danish historian Petreius related this name to Northern Jutland where the inhabitants are called vendelboer. Some of my ancestors originate from the small village Hvilshøj in that part of Denmark. The name vinili seems to be derived from some Germanic word for 'friend'. Today, the Old Norse form for 'friend' vinr has become ven in Danish.
Reichshoffen 10.12.2010
Contact: andersen@unistra.fr
© Vinilandicus 2010