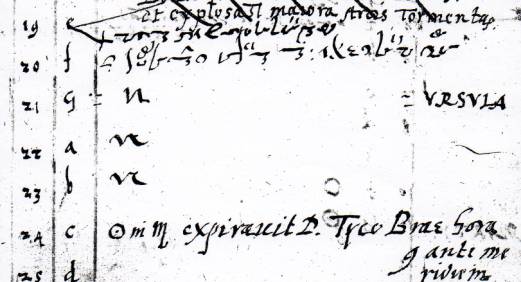 © Riksarkivet, E 8925, 145r
19. oktober / 19th of October 1601
MED ET KUINFÅLK
"WITH A WOMAN"
20. oktober 1601 / 20th of October 1601
IN PRANDIO APUD D[ominum] TYCONEM BRA[he]
"TIL MIDDAG HOS HR. TYCHO BRAHE"
"AT LUNCH AT MR. TYCHO BRAHE'S HOUSE"
21-23. oktober / 21-23th of October 1601
[tre gentagelsestegn]
[three signs for repetition]
24. oktober / 24th of October 1601
[sol] in [scorpionem] expirauit d[ominus] Tyco Brae hora 9 ante meridiem
"Solen trådte ind i skorpionen, hr. Tycho Brahe udåndede kl. 9 om formiddagen"
"The sun came into the Scorpion, Mr. Tycho Brahe exhaled at 9 o'clock A.M."

© 2009, Vinilandicus