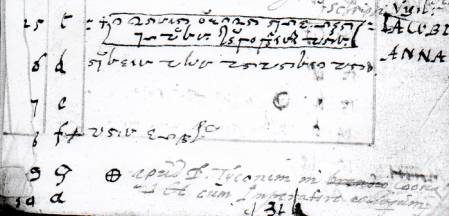 © Riksarkivet, E 8925, 142r
25. juli / 25th of July 1601
O BEATE IACOBE SUCCURRE DE MALE FRAGILITATI MEAE
"OH SANKT JAKOB, RED MIN SKRØBELIGE KROP FRA DET ONDE!"
"OH SAINT JAMES, SAVE MY FRAIL BODY FROM THE EVIL!"
26. juli / 26th of July 1601
SANCTA MNA [error for ANNA] MEMENTO MEI
"SANKT ANNA, GLEM MIG EJ!"
"SAINT ANNE, DON'T FORGET ME!"
28. juli / 28th of July 1601
MEA CULPA
"(Tilgiv) MIN SYND!"
"(Forgive) MY GUILT!"
29. juli / 29th of July 1601
O apud d[ominum] Tyconem in [prandio crossed] coena et cum imperatore colloquium
"Til [frokost rettet til] middag hos hr. Tycho og samtale med kejseren"
"At [lunch corrected to] dinner with Mr. Tycho and conversation with the Emperor"
© 2009, Vinilandicus