Decursus Christiani IIII Regis Daniæ

Passus plus vicies decurrit mille duabus
     Horis, ut pumilo rex veheretur equo.
Qui quosvis quovis certamine vincit equestri
     Cur non decursu vinceret ille itidem?
Sed dorsum potioris equi premat, anne vel Euri
     Flatus, hunc etiam vincere posse puteo.
King Christian IV of Denmark's Ride
The King covers twenty thousand steps within two hours when he rides a small horse. If he wins a riding contest, why should he not win a verse contest too? Whatever he bestrides the back of bigger horse or the breath of the wind, I think that he would be victorious anyway.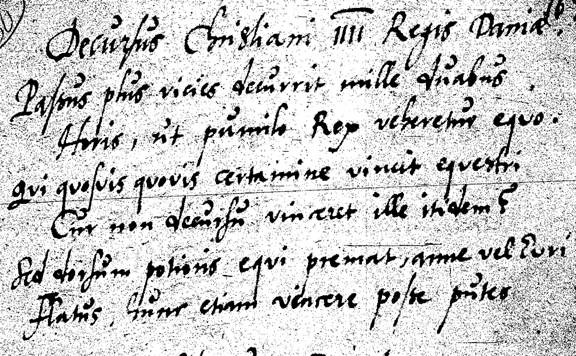 Peder Hansen's book (p. 167)