Venusinus's autograph (19.10.1600)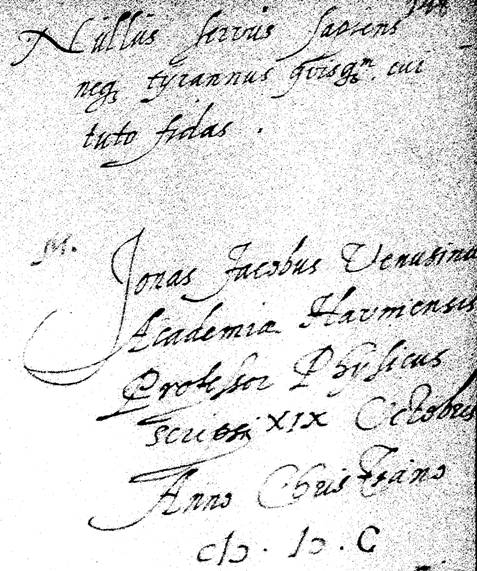 Nullus servus sapiens neque tyrannus quisquam, cui tuto fidas
M[agister] Ionas Iacobus Venusinus Academiæ Hauniensis professor physicus scripsit XIX octobris MXC
No wise servant and nor some tyrant that you safely trust
Magister Jon Jakobsen Venusinus professor of physics at the University of Copenhagen wrote [this] on the 19th of October 1590.
Autograph in the Swedish student Laurentius Quenslovius's album amicorum.
Laurentius Quenslovius
This Swede came from Kvänslöv in Småland and he was born about 1580. On 19.10.1596, he was immatriculated as student in Greifswald. In 1597, he participated in an academical dispute in Uppsala and undoutedly supported the catholic king Sigismund in the civil war against the rebellious duke Charles. After the king's defeat at the battle of Stångebro (25.09.1598), Quenslovius left Sweden again and in November 1599 he was immatriculated in Rostock. For half a year, he was employed as domesticus for the professor of theology and rector of the university Johann Freder (1544-1604), the historian David Chytræus's son-in-law. Venusinus must have known Freder personally. On 22.08.1600, Quenslovius began his album amicorum in Rostock. The first person to sign up was a Swedish refugee, the former governor of Åbo in Finland. Then, Quenslovius left Germany for Denmark for some unknown reason. He was apparently supposed to meet someone.
On 23.09.1600, he arrived in Ystad in southern Scania. Five days later, he met the bishop Mogens Madsen in Lund. On 30.09.1600, he met the Swedish refugee Erik Bielke in Malmö, on 01.10.1600 the rector of the school in Malmö Jens Aagesen, known as a secret Danish catholic. Then, Quenslovius crossed to Zealand from Helsingborg and arrived in Helsingør. On 07.10.1600, he met several persons, of whom the Scotch diplomat in Danzig Patrick Gordon, one of Venusinus's correspondents. On the same day, Quenslovius met another Swedish refugee Gustav Stenbock (1575-1629). He had fled to Denmark after the battle of Stångebro and he was the cousin of the count of Visingsborg Erik Brahe (1552-1614) who had just left Sweden forever. When Quenslovius met Gustav Stenbock, Erik Brahe was travelling through Denmark. On 06.10.1600, he crossed from Zealand to the island of Falster after short stays in Helsingborg, Helsingør, Copenhagen, Køge and Vordingborg (01-05.10.1600). Gustav Stenbock had so close relations to his cousin that he married Erik Brahe's daughter Beate in 1607. On 17.10.1600, Quenslovius arrived in Copenhagen. There, he met the bishop Peder Vinstrup, Tycho's friend and assistent Christen Sørensen Longomontanus, the king's personal physician Peder Sørensen, the rector of the university Anders Chritensen and eight professors, of whom Venusinus. Nothing appears about the purpose of this visit in the Danish capital from the album amicorum.
Then, Quenslovius left Copenhagen for Rostock. He chose the complicated way over Funen, Schleswig and Holstein and stayed for more than a month in the duchies. He arrived in Rostock on 19.12.1600. He did not meet Erik Brahe who had left Rostock in the meantime for Danzig. On the 13.12.1600, the Swedish count met the duke of Holstein Hans of Sønderborg, Christian IV's uncle. After his arrival in Rostock, Quenslovius's mysterious mission seems to have been accomplished. Afterwards, the signatures in his album amicorum get scarce. There are only four signatures for 1601 against c. 110 with the last four months of 1600. Between 1602 and 1632, we find c. 33 signatures. Nothing is known about Quenslovius after this date.
Literature about Laurentius Quenslovius
Helk, Vello, Laurentius Quenslovius. En svensk student som dansk og norsk huslærer i begyndelsen af 1600-tallet, in: Personalhistorisk Tidsskrift 93 (1973), p. 147-161
Nullus servus sapiens neque tyrannus quisquam cui tuto fidas
Venusinus seems to have used this sentence as a personal motto. We find it for the first time in Noviomagus's album amicorum on 13.06.1592, then in a short version after a poem written in Arngrimur Jónsson's album amicorum on 09.05.1593. It was quoted anomynously in a letter written on 12.02.1618 by the German writer Willich Westhovius to Lyschander. Westhovius seems to have been a personal friend of Venusinus. In his letter, the German refers to Venusinus's works and calls him as a "quite free-minded scholar" (liberior academicus).
The sentence is apparently not recorded anywhere before 1592 and its meaning is not clear. The first part of it may be a reference to the Bible (Proverbs XVII,2):
Servus sapiens dominabitur filiis stultis, et inter fratres hæreditatem dividet (Vulgata)

A wise servant shall have rule over a son that causeth shame, and shall have part of the inheritance among the brethren. (King James Version)
If this part of the sentence originates from the Proverbs, it would mean that Venusinus did not want to be just an servant ruling secretly, perhaps over the king.
The second part of the sentence may originate from the Roman playwright Plautus who is known to have influenced Shakespeare very deeply. In one of Plautus's comedies, the main character Curculio ('The Weevil') speaks to himself (Curculio II,3):
Date viam mihi, noti atque ignoti, dum ego hic officium meum
facio: fugite omnes, abite et de via decedite,
ne quem in cursu capite aut cubito aut pectore offendam aut genu.
ita nunc subito, propere et celere obiectumst mihi negotium,
nec quisquamst tam opulentus, qui mi obsistat in via,
nec strategus nec tyrannus quisquam, nec agoranomus,
nec demarchus nec comarchus, nec cum tanta gloria,
quin cadat, quin capite sistat in via de semita.

Known or unknown, make way for me, while here I execute my commission: fly all of you, be off, and get out of the way, lest I should hurt any person in my speed with my head, or elbow, or breast, or with my knee. So suddenly now am I charged with a business of quickness and despatch. And be there no person ever so opulent to stop me in my way, neither general, nor any tyrant, nor market-officer, nor demarch nor comarch, with their honors so great, but that down he goes, and tumbles head first from the footpath into the carriage-road.
If Venusinus alludes to this play, it would mean that he told his friends that noone would be able to stop him when he had decided to accomplish some personal project.
Original in Warsaw (Biblioteka Narodowa, Ms. 4859, p. 148)